The recent floods have led to calls for pet owners to have a disaster plan that includes caring for their animals.
The disaster seen in Queensland and NSW led to lives being lost, homes and livelihoods destroyed, and entire towns decimated.
As a result, countless animals were killed after families were forced to flee their homes leaving their pets behind.
Sadly, many of the farm animals that were left to fend for themselves ended up drowning.
Include animals in your disaster plan
We are being urged to have a plan for caring for animals in floods so they are prepared for future events.
"It's crucial to have a plan for your animals before disaster strikes," said Ben Pearson, country director for World Animal Protection.
"While there is an outpouring of compassion for animals, many people are unaware of how to help them before, during and after a flood.
"Flood waters can rise rapidly so, without a plan, people may make panicked decisions that threaten the safety of their animals and their family.
"Debris and contaminated water sources can also pose serious threats to animals in the aftermath of a flood," Pearson added.
Download World Animal Protection's free disaster guide on their website.
Preparation tips
Make sure your pets are microchipped and details are up to date;
Ensure you've got their registration and vaccination papers handy at all times;
Keep their carrier handy in an easy-to-reach location;
Pack a kit to keep with carrier that includes items such as towels, comfort toys or blankets, leashes and harnesses, supply of food and water, as well as all their medication
Helping animals after a disaster
Planning for disaster is vital, but it's also important to have a plan to help animals recover after an event.

World Animal Protection's tips to help transition animals back to normality
Clean water sources: dams or ponds that your pets drink from might be contaminated, so try to avoid them drinking or going into them.
Clear hazards on your property so that debris has gone before moving your pets back in.
Create a calm environment with their favourite toys and blankets so their stress can be reduced.
Monitor your pets for any injuries they may have sustained, and contact a vet if you are worried about an injury or their behaviour.
Re-stock your disaster planning kit, if you don't already have one, you can download your plan today.
Review and improve your disaster plan!
Update or replace their ID tag if you've since moved or it was damaged.
For further information, NSW SES has some great tips on making an animal emergency plan.

Heartwarming rescues
Many heartwarming stories of people rescuing and caring for animals in floods have emerged from the devastation.
MP for the Animal Justice Party, Mark Pearson, says it's great to see how much the community cares for animals.
"We've seen Australians go above and beyond for animals by saving pets, farmed animals, and wild animals alike," Pearson says.
Pearson says it's also great to see people caring for farm animals just as much as pets like cats and dogs.
"I saw a government document about the floods referring to animals and livestock separately, but it's clear most Australians don't see a distinction, and don't consider livestock as just objects or stock to be lost."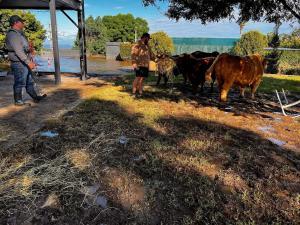 "All animals suffer in natural disasters, just like humans, and we as a society are really starting to realise that," Pearson says.
"It's inspiring to see so many incredible stories of people rescuing not only dogs and cats, but koalas, kangaroos, horses and cows.
"I thank the volunteers working to save lives, but I want to remind the public to never put themselves in danger."
Mark has echoed the call for Australians to have a plan in place for caring for their animals in a disaster.
"This is a good reminder for everyone to have a plan of action in place for saving the animals in your care."
For more examples of people caring for animals in floods or times of need, read about the wonderful Vets Beyond Borders team's recent trip to Thursday Island.