With Easter fast approaching, pet owners are being reminded of the very serious consequences of chocolate toxicity in dogs.
We speak to the experts to learn what chocolate toxicity is, and how owners can ensure their pets stay safe.
More dogs go to the vet after eating chocolate during Easter than any other time of year.
Chocolate contains theobromine which, when ingested, can cause serious health complications, and can prove fatal.
We share the simple advice all pet owners should take to avoid chocolate toxicity.
It's not just the chocolate that can be harmful; learn what else can make your pooch sick, or anxious, this Easter.
Chocolate toxicity in dogs
While most owners know the dangers, Easter is still the busiest time for vets treating chocolate toxicity.
"Most people are aware that chocolate is toxic for pets," says PETstock vet Dr Katherine Macmillan.
"The main ingredient that causes problems, theobromine, is found in the cocoa beans that are used to make chocolate.
"Like caffeine, dogs can't metabolise theobromine and this can lead to a range of serious problems, including death."
Dr Macmillan says the level of chocolate toxicity a dog suffers depends on the cocoa content of the chocolate that is eaten.
"Baking chocolate presents the biggest risk; dark chocolate is more dangerous than milk, while white chocolate is the least likely to cause problems."
Dr Macmillan says the signs of chocolate toxicity in dogs can develop in two to 12 hours after the chocolate is eaten.
Symptoms of chocolate toxicity in dogs include:


Vomiting

Diarrhoea

Excessive thirst or urination

Restlessness and agitation

Bloated abdomen

Twitching and stiffness

Seizures

Elevated temperature

Elevated heart rate
Treatment
Pet owners should seek veterinary treatment immediately if their dog has eaten any chocolate.
"If you think your dog has eaten chocolate, take them to the vet before they show signs of being unwell," says Dr Macmillan.
"The vet will induce vomiting which will stop the toxins being absorbed".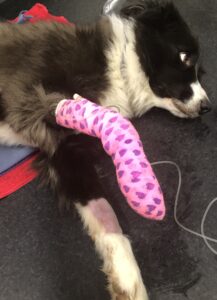 Preventing chocolate toxicity 
Ensuring your pet doesn't eat any chocolate is the simplest way to avoid them getting sick.
Dr Macmillan has compiled the following tips to keep pets safe and avoid unwanted visits to the vet.
Storage Store ALL Easter eggs in a high place and out of reach of even the most-clever canine.
Dogs have a strong sense of smell, so what may be well hidden for a child will not work with a dog and their super-sensitive nose!
Creating a safe Easter hunt Place your dog in a separate room or area while you set up and carry out the Easter egg hunt.
If possible, create a map that includes information on where you have placed the eggs, so you can grab the leftovers before your dog.
Dispose any wrapping After the Easter egg hunt, make sure that no foil or wrapping from the chocolate is left behind.
The remnants of the chocolate will make them extremely enticing to dogs but is very difficult for dogs to digest.
Training Having a well-trained dog can come in very handy in dangerous situations.
Training your pet to give up items in their mouth when you ask will come in handy at times like these.
You can simply ask your dog to 'drop it' if they pick up a treat and have been taught even the basic commands.
Make sure you offer a reward in exchange for the treat, otherwise next time you might not be so lucky!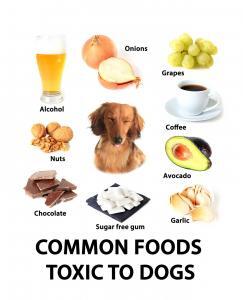 Other dangers lurking at Easter

It's not just chocolate that can make pets very ill.

Hot cross buns are also bad for dogs, particularly those with sultanas or raisins.

Many sweets, and alcohol, are other examples of popular Easter items that can be extremely dangerous for dogs.
Easter anxiety in pets
The decrease in gatherings during COVID has led to an increase in social anxiety in pets.
PETstock vet Dr Tara Morris explains why it's not just chocolate that owners need to worry about at Easter.

Entertaining at home this year?
If you have a dog prone to anxiety, then it's important to limit their nerves by preparing them for the festivities.
More than 40% of dogs suffer anxiety, with a leading trigger being gatherings and celebrations in their home.
"These include the music, extra movement, different odours, and even just a change to the daily routine," says Dr Tara.
"If you are planning to host a get-together this Easter, consider what your pet will be up for in terms of socialisation."
Prepare a safe room If you plan to keep your pet away from celebrations, consider preparing a safe space.
"This will be away from loud noises with easy access to food, water, a bed, and toys," says Dr Tara.
"Plus, if the pet can't go to the toilet in this space, make sure to take them out frequently."

A safe space and extra cuddles can help an anxious dog
PETstock Ambassador and Dog Behaviourist, Lara Shannon, suggests slowly building up your pets' relationship to the safe space.
"Ensure that this safe space is always accessible to your pet by making it a permanent fixture," says Lara.
"It should not be a one-off space, but a space where your pet can seek when they start to feel afraid or uncomfortable.
"If it becomes a space that you only use during events, your pet may refuse to enter the unfamiliar space."
Extra Easter Love Owners are encouraged to set aside quality time with their pet if they suffer anxiety.
"With all these precautions, it might sound like your animal friend could be missing out on a lot of fun," says Lara.
"While it is still the long weekend, you could set some time aside to spend some quality time with your pet.
"Take them on a walk or, if they prefer to stay at home, prepare a pet-friendly Easter 'egg' hunt with tasty treats from PETstock.
"You can even build a pet-friendly party favour and include some well-themed toys for the occasion."
For more information, or to find some pet-friendly Easter treat ideas, head to www.petstock.com.au
More like this
Aggressive behaviour in dogs – the signs every owner needs to look out for