An Australian animal welfare charity is calling for increased action to improve pet friendly aged care.
Companion Animal Network Australia (Australia CAN) – Australia's peak body representing companion animals – recently released the results of its Aged Care Survey: Status of Pets in Aged Care.
•Survey reveals 86% of older Australians credit pets for improving physical and mental health.

•Despite that, only 18% of aged care homes allow companion animals.

•Loneliness costs Australia $2.7b each year.
Pet friendly aged care
Pets offer many physical and mental health benefits such as reduced stress, companionship, and they encourage social interactions.
This is particularly true for older Australians, who often face loneliness and isolation and rely on their pets for companionship.
Yet while 86% of older Australians credit their pets for improving their mental and physical health, only 18% of aged care homes allow companion animals.
These were just two of the worrying statistics Companion Animal Network Australia (Australia CAN) revealed in its recent pet friendly aged care survey report.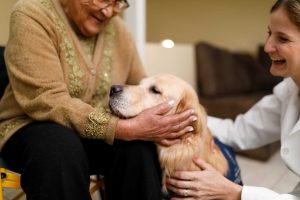 Through its Pet Friendly Aged Care division, Australia CAN works to preserve the bond between people and their beloved pets by keeping them together for as longas it provides the best health outcome for the animal and their owner.
Working closely with the residential facilities that allow clients to bring their pets with them, Australia CAN campaigns to keep those in aged care and their beloved pets together for as long as practicable.
Trish Ennis, Australia CAN CEO, says the government and aged-care providers don't understand the human-animal bond for older people.
"There's often catastrophic emotional harm caused when people are forced to give up their pets in an aged care home," says Trish.
"Resulting in their much-loved animals being surrendered to shelters across the country.
"People are putting their lives on the line when they refuse to move into aged care because they can't bring their pet with them.
"If people were allowed, aged care will increase and the number of pets being surrendered to animal shelters will decrease."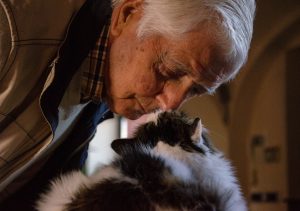 In-home aged care – urgent need for pet care support
Australia CAN's Aged Care report also reveals a disturbing statistic for older people who remain in their own home.
Those who depend on in-home assisted living and who have a companion pet, lack the government support they desperately need.
"61% of older adults live alone and 74% of older adults with pets say they provide companionship and reduce loneliness."
Of the 40% of older adults who receive a Home Care Package, 91% don't receive support to help care for their beloved companion.
"There's an urgent need to support pet ownership for older Australians who choose to live independently," says Trish.
"The health and well-being benefits of pet ownership are indisputable."
The barriers 
The survey shows 60% of people think the main barrier to pet ownership is lack of education among aged care providers.
Another barrier is the lack of funding to facilitate design changes to accommodate pets being a major challenge.
"Education and knowledge about benefits of accommodating pets are the key factors to opening up opportunities," says Trish.
"Solutions to maintaining a high quality of life include finding ways to help ageing people retain their pets," says Trish.
Snapshot of survey results

86% of people with pets in aged care settings experience improved mental and physical health.

74% of older adults with pets say their animals provide companionship and reduce loneliness. Yet …

18% of aged care facilities consider allowing residents to keep a companion animal.

9% of pet owners with in-home care packages receive support to manage their pets.

38% of aged care facilities have in-facility pets. 46% of facilities permit pets to visit residents.
How you can help
Companion Animal Network Australia says the public can help in the following ways:
Lobby for laws and funding that benefit pet ownership in aged care. Raise the topic with politicians in your state.
Complete the Pet Friendly Aged Care Survey
If you're a pet lover, volunteer your time to an aged care facility.
If you work in the aged care industry, survey your clients demand for pet friendly services.
Donate to help Australian CAN continue the work they do.
Share your story about pet friendly aged care living.
READ MORE