'There is no doubt in my mind that the connection between humans and dogs is so deep that it can transcend the most damaged brain.' – Toni, owner of Millie.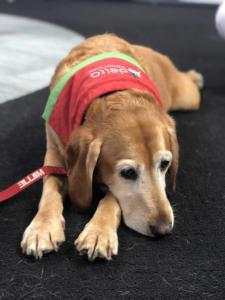 Why is it dogs have such a constant and unwavering impact on the human spirit? It's difficult to pin-point the exact element of a dog's being that gives us that warm, fuzzy, almost overwhelming feeling. I feel it when I run my hand through my dog's fur, or when I see a shaggy friend chasing a ball in the park. Maybe it's the true sense of unconditional love and naive unknowing of the world's troubles that us humans are simply incapable of understanding.
It's that unconditional love which has led to the extra responsibility we've placed on our pets to become a literal form of therapy for those stricken by illness and extended stays in hospital beds.
In my search for good boys and good girls and how they fit into the world of therapy, I was fortunate enough to chat to Toni, proud owner of her Spanador, Millie.
Four years ago, Toni and Millie signed up as a therapy dog team with Delta Society, Australia's largest provider of therapy dog services. Their mission is 'to promote and facilitate positive interaction between people and companion animals.'
Each week since, the pair visit the neurology ward of one of inner-western Sydney's largest hospitals. Strokes, brain tumours, epilepsy and traumatic head injuries are the most common patient conditions they encounter, however in four years they've seen and tended to just about all kinds. The ages of those patients vary just as much, from late teens through to centenarians.
The only constant for Toni is the way each visit moves her, often to tears, by the joy Millie brings during her rounds of the wards.
Although every dog-owner believes theirs is the perfect one, there is criteria and testing for each applicant to face before becoming a recognised therapy dog. As per Delta Society's website, testing includes assessments of skill and reaction, involving:
Controlled walks
Accepting strangers and sitting for pats
Being held by a stranger without an owner in sight
Leaving a piece of food within reaching distance
Taking food gently
Recalling dog that is distracted and a minimum of five metres away
Reaction to other dogs, clumsy or erratic petting, angry yelling, crowds, or being bumped into while distracted
Reaction to individuals using wheelchairs, walking frames/sticks.
It's clear this ever-growing craze has caught the attention of scientists and scholars alike, following countless studies putting facts and verified data behind the practice.
A study conducted by the Department of Orthopaedic Surgery in Boston, USA, explored whether therapy dogs improve pain management and general treatment satisfaction after total joint arthroplasty (a surgical procedure intended to restore the function of a joint). The study – using a measurement of perception of pain by patients and a verified consumer assessment of hospital stay quality – found that patients who were visited by the dogs before physical therapy were measuring in with lower levels of pain and higher levels of satisfaction with their stay following procedure and physical therapy.
Looking back more than 15 years, a study conducted in Budapest, Hungary – by various people associated with psychiatry, psychotherapy, medicine, and one from a dog search and rescue team – investigated the impact of 'animal-assisted therapy for middle-aged schizophrenic patients living in a social institution'. The study involved a therapy dog visiting patients at the institution weekly, before a measurement of patients' independent living skills was taken by a family member or facility staff. The overall results again showing positive reactions in patients during their rehabilitation at the facility.
Research or not, it's difficult to find reasons for dogs not being therapeutic, whether tending to the ailments of hospital patients, or sitting by our side through even our worst days.
It seems only fitting to finish on a beautiful message sent to Toni from the family member of a man who developed Creutzfeldt-Jakob disease (vCJD) in his 60s. Toni and Millie visited Max* (name changed for privacy reasons) weekly during his stay in neurology isolation. Toni recalls her final visit with Max, when he was – despite his weakened state – still able to turn his head and stroke Millie's fur with the help of his family, as she rested her chin on his chest. Max died three weeks later in palliative care, and the following is a letter Toni received from a family member of Max not long before.
'Dear Toni,
Thank you for sending some more pictures of Millie. We will print them off for Max's new picture wall in palliative care.
I can't describe how good it has been to have Millie visiting my brother. When he was very confused, Millie calmed him – he was obviously pleased to see Millie, even when he sometimes didn't seem to recognise people – and Millie was also an immense help to me. As Max deteriorated, Millie's visit was really the one good thing for us to look forward to, in the midst of so much sadness. And even after Millie's visit, Millie was something happy that the family could talk about, joking about people competing to visit on the days that Millie would visit.
I will always remember your kindness. And while I can't imagine the stress that you might sometimes feel as you see all sorts of things in the neurology ward, please don't be too sad for us: although Max's rapid decline has been terrible, he (and we) have been blessed that the people he knows have been so supportive, and that he has experienced such kindness from people like you. Although he will die too young, perhaps he is also lucky to die with so much support from so many people. Together, you and Millie made an almost unbearable situation a bit more bearable for us all, and I very, very much hope that the hospital recognises the enormous value of a therapy dog and their owners for families like ours.'