Maui animal rescue UPDATE: It's been two weeks since the Hawaiian island of Maui was devastated by fire, but the operation to rescue animals and reunite injured and displaced pets is continuing.
More than 100 people lost their lives when the wildfire tore through the town of Lahaina earlier this month.
In addition to the human causalities, countless animals were impacted; pets and wildlife were killed, displaced, injured, or lost.
The Maui Humane Society (MHS) has been at the forefront of the wildfire's rescue operations, providing care for injured and displaced animals.
The organisation's main shelter has become a hub for volunteers who have gathered to offer support, assist with search and rescue efforts, and to reunite lost or injured pets with their owners.
MHS says that while there is a lot of work still to be done, it is committed to continuing to rescue animals who remain injured in the fire zone, as well as to reuniting the hundreds of lost pets.
Desperate plea for help
In the immediate aftermath of the wildfires, MHS issued a desperate plea for help as they were inundated with injured and lost animals.
The initial call for help was met with an outpouring of support.
In less than 24 hours, the organisation had raised more than US$280,000 and volunteers inundated the shelter with offers to foster displaced animals.
Through all the devastation, Maui Humane Society says there's also a lot of positive news to report, as hundreds of animals have been either rescued, rehabilitated, or reunited.
"Maui Humane Society is here and will continue to serve the community.
"We have received an overwhelming amount of support from our local community as well as physical donations, which we are prioritising to distribute to all pet owners who have been directly or indirectly affected by these fires, across Maui Nui.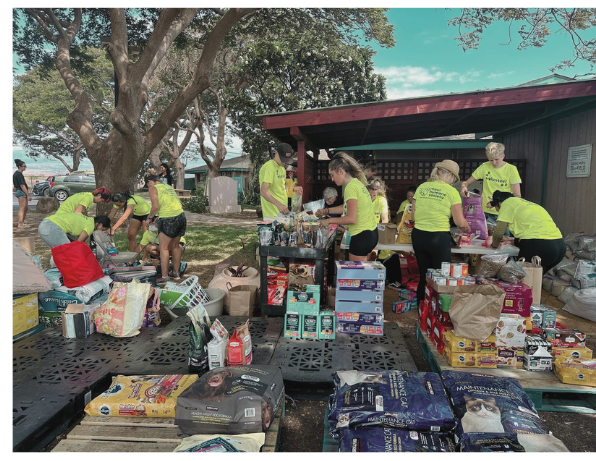 "As emergency shelters close down, we are partnering with organisations across the island to ensure that pet supplies are distributed from Hana to Kula to Napili to keep pets in homes."
"(We) continue to cooperate with local emergency management and search and recovery teams," the organisation says.
Maui Humane Society says it is working with first responders that are certified to be inside the burn area in order to continue the rescue operation.
"Reports and firsthand observations have confirmed the presence of living animals in need of assistance," MHS says.
"If a first responder finds a live animal, they will take the animal to a checkpoint to be turned over to Maui Humane Society personnel for veterinary care and/or reunification."
The rescues
The organisation has also provided updated figures of the animals rescued and reunited.
"Yesterday, seven cats from within the burn zone were rescued by FEMA task force members and transferred to Maui Humane Society via Humane Enforcement officers."
In addition to those animals, Maui Humane Society has provided the following update:
MHS has taken in 187 animals from Lahaina and have provided care for them at the shelter in Pu'unene

30% of the animal survivors have been reunited with their families

Working through over 1,300 filed lost reports which have been submitted online or through our new hotline

Veterinary staff have helped over 375 animals in Lahaina

Thousands of gallons of safe drinking water and hay bales have been delivered daily over the past week to animals and livestock in both Lahaina and Kula

Roughly 130 pets in Maui Humane Society's care prior to the fires have been transferred off-island into guaranteed adoption homes, to make additional space for animals needing shelter

Maui Humane Society has met, working with, and offering support and supplies with local animal rescues so they can continue to care for the animals in their care

Free health certificates, rabies vaccines and airline approved kennels are being distributed to any resident looking to leave the island

Hundreds of volunteers arrive at Maui Humane Society every day, averaging 6 hours per person/day

Maui Humane Society has distributed 17,000 lbs of pet food and supplies to emergency shelters, distribution checkpoints, parks, churches, hotels, and individuals in need throughout the island and plans to deliver to Hana on Friday 8/25 to the Farmer's Market and join the Mega Disaster Recovery Center in Kahului to support pets and pet owners.
About Maui Humane Society
Maui Humane Society is the island's only open admission shelter, accepting all animals in need.
The organisation cares for over 4900 animals a year.
The shelter has a robust foster and volunteer program, transfers hundreds of animals through Wings of Aloha flights to adoption-guaranteed homes, practices TNR as a humane method of reducing the community cat population, and provides food and supplies at no cost to disadvantaged pet owners through the 4EverPets community outreach program.
Visit Maui Humane Societies website for more info about the team and how you can help the fire victims.
READ MORE FROM ANIMAL FRIENDLY LIFE
Maui wildfires animal rescue; shelter inundated with lost, injured pets