Petspiration Foundation's Christmas Project is urging animal lovers to support its initiative to help pets and people in need.
Christmas can be a challenging time of year, with many people experiencing hardship, including being separated from their pet.
The recent flood disaster is one example; many people forced to flee and leave their beloved pets behind.
Sadly, it's also the time of year many not-for-profits are under-resourced and stretched to their limit.
Because of this, animal welfare advocate and media personality Jacqueline Felgate decided to step in.
Jacqueline is the inaugural ambassador for The Petspiration Foundation, and it's Christmas Project is certain to help the most vulnerable in the community.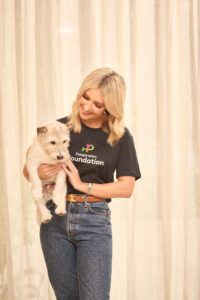 Petspiration Foundation Christmas Project
The Petspiration Foundation Christmas Project is raising money for its charity partners across the country.
The money raised will enable the charities to gift Christmas wishes to the people and pets who need them most.
Jacqueline is encouraging animal lovers to donate and get behind the Christmas Project, running November 1 to December 25.
"I'm joining the Foundation on its mission to raise $500,000 to empower a better future for pets and people," says Jacqueline.
"Christmas is a time for giving, and there's no better feeling than knowing you've given the gift of shelter, food, or security to those – animals or humans – most in need.
"Animal welfare is something that I'm extremely passionate about, and knowing that through this donation, the burden on charity partners struggling with resources this Christmas will be eased, is extremely comforting."
The Petspiration Foundation's Charity and Events Lead, Sherralea Cassidy, says Christmas is the perfect time of year to consider the people and pets who might be less fortunate than others.
"For most, Christmas is a joyous time of year – celebrated with those nearest and dearest to us," says Sherralea.
"For others, it can be one of the most challenging times of year, with many pets and people experiencing hardship through no fault of their own.
"Many organisations are under-resourced and rely solely on the donation of others, and through this initiative, we're hoping to alleviate any burden the holiday season can bring.
"With 100% of the Petspiration Foundation's donations going towards this initiative, we're encouraging animal lovers across the nation to open their hearts and extend a donation – big or small – so that we can provide food, shelter, security and support," says Sherralea.
Organisations involved in the Christmas Project
Pets of The Homeless (VIC)
Cowboys 4 Kids (NSW)
Horse Power (WA)
Smart Pups (QLD)
Pegasus RDA (ACT)
RDA Tasmania (TAS) and,
Safe Pets Safe Families (SA).
How you can help
Round up your purchase in store or online
Visit petstock.com.au and donate online
Purchase specifically marked products
Donate $2 or more to Petspiration Foundation's Wishing Tree at stores across the country
About Petspiration Foundation
The Petspiration Foundation (formally PETstock Assist) is a registered charity that exists to strengthen the rewarding bond between pets and people, empowering a better future for both.
Since its inception in 2007, the Petspiration Foundation has raised more than $7.5 million to date, found homes for more than 13,000 rescue pets and donated more than $181,000 to support flood affected areas in 2022.
The Foundation is contributed to by the fundraising initiatives of all Petspiration brands, donations by business partners and employees as they come together for the pets that inspire us.
100% of funds raised go towards its charitable partners and projects with all operating costs covered by the business.
About Jacqueline Felgate Jacqueline (Jacqui) Felgate is a multi award-winning journalist, animal lover, and newly appointed ambassador for the Petspiration Foundation.
Jacqueline was the first woman to host the Brownlow Medal count during a media career that spans two decades. As an animal welfare advocate, Jacqueline enjoys spending her downtime with her 15-year-old dog, Hugo, and retired racehorse, Red.