Estimated reading time: 6 minutes
The Animal Friendly Life team is passionate about sharing ideas and advice on pet-friendly holidays, and recently we've shared some great destinations that can be enjoyed by the whole family – furry members included!
So, with the weather warming up and the school holidays here, we thought it's the perfect time to share everything you need to know for going camping with dogs.
Dog-friendly camping
Camping is not just fun for us humans; for dogs, it means a smorgasbord of smells, spaces to run freely, plenty of activities, and sticks to chew on!
Exploring the great outdoors together has many, many benefits for our dogs, both physical and mental.
The most obvious appeal for dogs is camping being a more physical holiday than many other destinations (unless you're glamping, of course).
And the open spaces to run, loads of walking, hiking, and running trails, and just exploring nature with their owners, makes camping the perfect trip for our four-legged mates.
But while camping with dogs sounds ideal (and it generally is!), there still needs to be a lot of planning and research done to make it a fun and stress-free experience for all family members.
Here's what we love most about camping with dogs:
As mentioned, camping has many benefits for dogs, but here's our top ones:
Endless exercise: Camping provides numerous opportunities for physical activity like hiking, swimming, and ample space to run around.
Mental stimulation: The new environment, scents, and experiences keep your dog mentally engaged and entertained.
Quality time: Camping allows for uninterrupted bonding time between you and your pet.
Socialisation: Meeting other campers and their pets can be a good social experience for your dog.
Natural exploration: Dogs get to explore a more natural habitat, which is closer to their ancestral environment.
Less stress: Being in nature – and without the disruption of urban noise and chaos ­- can be calming for many pets.
Training opportunities: The variety of situations and experiences can be used as training moments.
Health benefits: Fresh air and exercise contribute to better overall health for your dog.
Flexibility: Camping allows you to tailor activities to your dog's age, breed, and health requirements.
Simple joy: Most dogs simply love being outdoors and surrounded by their favourite humans, making camping a joyous occasion for them.
Finding the best dog-friendly campsite near you
Choosing the perfect location requires a bit more planning when your furry friends are involved.
Finding a campsite that is pet-friendly is the most obvious first step.
But aside from the site itself, there's a number of important things owners should consider when searching for the perfect destination.
What dog-friendly facilities are nearby? Beaches, parks, walking trails?
What about local dog-friendly cafes and stores? And how far away is the vet in case of an emergency?
These are just some of the questions owners need to have answers to before committing to a camping destination.
Tips for finding the best camping spot for dogs
While every family, and dog, is different and has different needs, the below checklist covers the essentials that everyone needs to look at before making the trip.
Research pet policies: Before making a reservation, thoroughly research the campsite's pet policies to ensure they align with your needs. Look for sites that allow dogs off-leash or have designated dog-friendly areas.
Nearby dog-friendly facilities: Check if the camping location is close to dog-friendly beaches, parks, or walking trails. Having access to these facilities will provide additional opportunities for your furry friend to enjoy their holiday.
Amenities for dogs: Look for campsites that offer amenities specifically designed for dogs, such as dog-friendly swimming areas, dog wash stations, or fenced-in play areas.
Safety consideration: When camping with dogs, it's essential owners check the camping location is safe for them, with minimal hazards such as poisonous plants, steep cliffs, or busy roads nearby.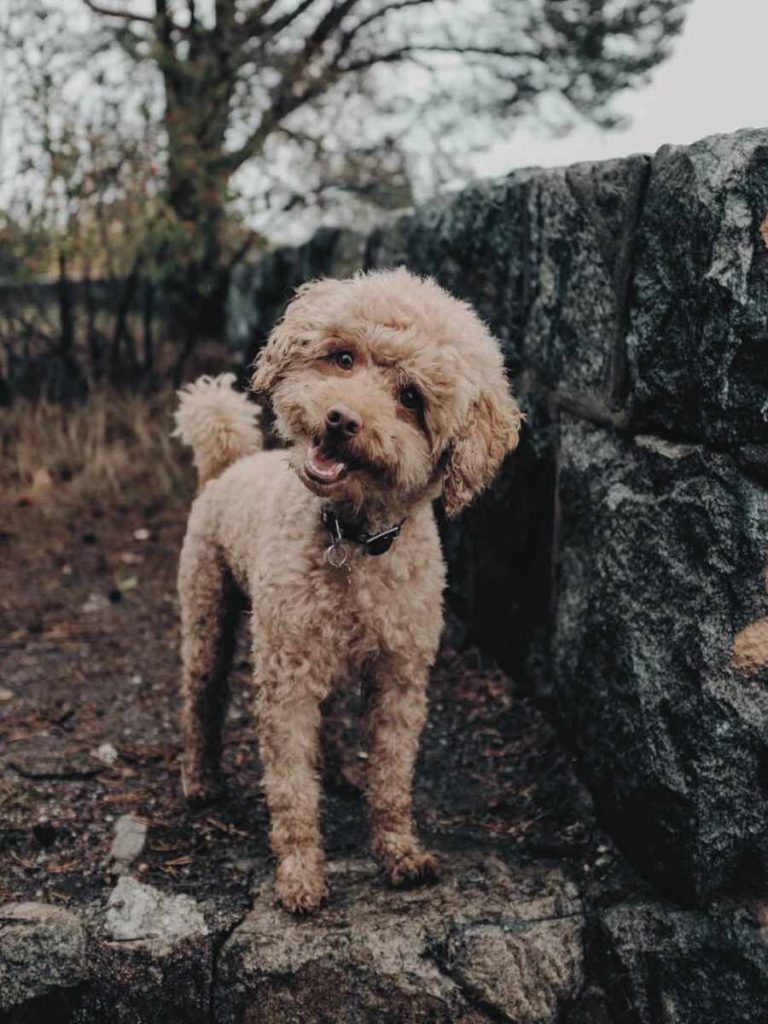 What to pack? Camping gear for dogs checklist
While embarking on a camping adventure with your dog adds a layer of excitement to the trip, having your furry friend with you means it's crucial to pack the right gear to ensure a safe and enjoyable trip for you all.
Having the proper camping gear for dogs not only makes the adventure more comfortable, but it also safeguards your pet's wellbeing.
From durable leashes to portable water bowls, each item serves a specific purpose.
So, we've compiled a checklist of camping gear for dogs – some essentials – that could come in handy during your adventure.
Camping gear for dog's checklist
We've compiled a comprehensive checklist of everything you'll need to have in your pet kit before heading out on a camping trip with your dog.
To make it even easier, we also share links to some of the items you can purchase.
Dog tent or shelter: A small, portable tent to give your dog a safe space.
Sleeping bag: To keep your dog warm during the night.
Dog life jacket: Essential if you'll be near water.
First aid kit: Include dog-specific items like tick removal tools and paw balm.
For those who want the added security of knowing basic pet first aid, there's a number of books available online, such as: First Aid for Dogs eBook : Hammett, Emma A: Amazon.com.au: Kindle Store
Portable dog bowls: For food and water.
Dog food container: Airtight to keep food fresh.
Water filter: In case you run out of bottled water.
Dog GPS tracker: To keep tabs on your dog's whereabouts.
LED collar: For visibility in the dark.
ID tags: With current contact information.
Chew toys: To keep your dog entertained.
Long leash and stake: For secure roaming at the campsite.
Biodegradable poop bags: For clean and eco-friendly waste disposal.
Dog wipes: For quick clean-ups.
Portable dog shower: For rinsing off mud and dirt.
Dog booties: To protect paws from rough terrain.
Cooling mat: For hot weather camping.
Insect repellent: Specifically formulated for dogs.
Dog sunscreen: To protect against harmful UV rays.
When it comes to finding the best place to go, Australia has it covered!
Catering to demand, there are dog-friendly caravan parks and camping sites popping up across the whole country.
This means that no matter where you live, it should be easy to find the perfect place without having to spend too long in the car.
Here's some examples of dog-friendly caravan parks in each state, plus some dog-friendly places and activities nearby:
New South Wales
Caravan Parks: Holiday Haven in Jervis Bay, Suffolk Beachfront Holiday Park in Byron Bay, Katoomba Falls Tourist Park in the Blue Mountains.
Activities: Dog-friendly beaches in Jervis Bay, The Farm at Byron Bay, scenic dog walks in the Blue Mountains.
Victoria
Caravan Parks: Torquay Foreshore Caravan Park on the Great Ocean Road, Daylesford Victoria Caravan Park, Rosebud Foreshore Camping in Mornington Peninsula.
Activities: Coastal walks along the Great Ocean Road, Trentham Falls near Daylesford, wine tasting at dog-friendly Crittenden Estate in Mornington.
Queensland
Caravan Parks: Noosa River Holiday Park, Tallebudgera Creek Tourist Park in Gold Coast, Cairns Coconut Holiday Resort.
Activities: Canoeing in the Noosa Everglades, Currumbin Wildlife Sanctuary in Gold Coast, Rainforest hikes near Cairns.
South Australia
Caravan Parks: Hahndorf Resort Tourist Park in Adelaide Hills, Kingscote Tourist Park on Kangaroo Island, Discovery Parks in Barossa Valley.
Activities: Cleland Conservation Park in Adelaide, Seal Bay guided beach tours on Kangaroo Island, Maggie Beer's Farm Shop in Barossa.
Western Australia
Caravan Parks: Margaret River Tourist Park, Coogee Beach Holiday Park in Perth, Cable Beach Caravan Park in Broome.
Activities: Cave tours in Margaret River, Swan River scenic walks in Perth, camel rides on Cable Beach in Broome.
Tasmania
Caravan Parks: Hobart Showground, Treasure Island Caravan Park in Launceston, Discovery Parks Cradle Mountain.
Activities: Mt Wellington hikes in Hobart, Cataract Gorge Reserve in Launceston, Dove Lake Circuit at Cradle Mountain.
Northern Territory
Caravan Parks: Hidden Valley Holiday Park in Darwin, G'day Mate Tourist Park in Alice Springs, Kakadu Lodge in Kakadu National Park.
Activities: Leanyer Recreation Park in Darwin, Alice Springs Desert Park, Yellow Water Billabong in Kakadu.
ACT
Caravan Parks: Alivio Tourist Park, South Canberra Caravan Park, Queanbeyan Riverside Tourist Park.
Activities: Lake Burley Griffin for a picnic, Mount Ainslie Lookout, National Arboretum Canberra.
Now, pack your bags and hit the road!
Camping can be a rewarding experience for every family member, both two-legged and four.
But, as you can see, taking a bit of extra time to find the perfect pet-friendly location ensures everyone has a memorable holiday.
So go ahead, pack those bags and prepare for a fantastic adventure!
If you have a favourite dog-friendly camping location (and you're happy to share your secret!) we'd love to read them in the comments.
Camping with dogs FAQ's
What are some essential camping gear items for dogs?
When camping with your dog, essential gear includes a dog-specific first aid kit, a sturdy leash, a portable water bowl, and dog-friendly insect repellent. Make sure to also bring your dog's regular food to maintain dietary consistency.
How can I ensure my dog stays safe while camping?
Safety is paramount. Always keep your dog on a leash or in a secure enclosure. Be aware of local wildlife and keep a safe distance. Make sure your dog is up-to-date on vaccinations and tick prevention treatments.
Are there dog-friendly camping activities?
Absolutely! Many campsites offer dog-friendly trails to walk or run, lakes for swimming, and open spaces for running and games. Always check the campsite's pet policy to ensure these activities are permitted.
How do I handle my dog's waste while camping?
Always clean up after your dog. Bring biodegradable poop bags and dispose of the waste in designated pet waste stations or pack it out with you. Some campsites even offer composting options.
Can dogs sleep in tents?
Yes, dogs can sleep in tents, but make sure you bring a dog bed or mat to keep them comfortable and warm. Ensure the tent is well-ventilated and that your dog is dry before bedtime to avoid moisture buildup inside the tent.
READ MORE FROM ANIMAL FRIENDLY LIFE