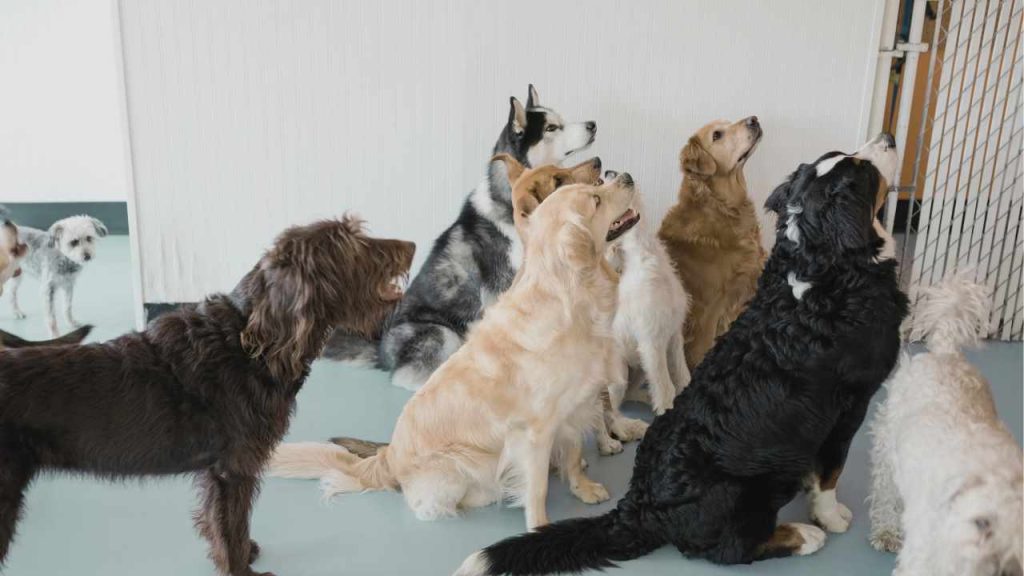 Estimated reading time: 6 minutes
As a pet parent, you want nothing but the best for your furry friends, and that's certainly the case when it comes to finding the best doggy daycare.
But with so many options out there, how do you choose?
To help, we've compiled this essential guide for pet parents on everything you need to know about doggy daycare.
From location and facilities to staff qualifications and playtime activities, we list everything you need to know and consider when finding the best place for your furry friend!
Why doggy daycare?
Doggy daycare has become increasingly popular in recent years, and for good reason; it offers numerous benefits for both you and your furry friend.
For owners, it offers a convenient solution when juggling busy schedules, work commitments, or unexpected errands.
Instead of worrying about your dog being left alone for extended periods, doggy daycare provides a safe and supervised environment.
A big positive of this is the opportunity for dogs to socialise, play, and burn off energy under the supervision of trained staff.
Apart from group play, most doggy daycares incorporate structured activities into their daily routine, ensuring your pup is mentally stimulated also.
And just like at daycare for kids, mealtimes and rest periods are included in the daily routine.
Great chance to socialise
Dogs are naturally social animals, and regular interaction with other dogs is crucial for their overall well-being.
So, it's an added bonus that on top of your pet being looked after during the day, he's getting the chance to socialise and explore his natural instincts.
A good doggy daycare will provide plenty of socialisation opportunities so dogs have the chance to interact, play, and learn from each other.
This helps improve their social skills, teaches them appropriate play behaviours, and can even reduce anxiety and fearfulness.
Reduces social anxiety
Dogs at daycare are exposed to various breeds, sizes, and personalities, which helps them become more adaptable and comfortable in different social settings.
Apart from interactions with other dogs, daycare staff members also play a vital role in facilitating socialisation.
They actively engage with the dogs, providing positive reinforcement and guidance during playtime.
Top three benefits of doggy daycare

It provides a supervised and structured environment where your pup can burn off excess energy through play and exercise. Which is particularly beneficial for high-energy breeds who may become restless or destructive when left alone for extended periods!
Doggy daycare also promotes socialisation, allowing your dog to interact with other pups in a controlled and supervised setting. This can help improve their social skills, reduce anxiety, and enhance their overall well-being.
A major reason though, is simply because doggy daycare offers peace of mind for pet parents. Instead of worrying about your pup being home alone all day, you can rest assured knowing they are in a safe and stimulating environment. This can alleviate separation anxiety for both you and your dog, making your time apart less stressful (again, for your both!).
How to choose the right place for your dog
So, once you've the decision to enroll your pet in doggy daycare, where do you start when looking for the best local centre?
With so many doggy daycare facilities to choose from, finding the right one can feel overwhelming.
These tips will help you narrow down your options and find the perfect fit for your pet:
Location This is a very important consideration; you'll want to find a doggy daycare that is conveniently located to your home or workplace, making drop-offs and pick-ups easier for you.
Size Consider the facility's size and layout. A spacious and well-designed daycare centre will provide plenty of room for dogs to play and move around comfortably.
Staff You wouldn't trust your pet with just anyone, so it's crucial to check the staff have the necessary qualifications, and experience, to look after your dog. The best doggy daycare centres will employ knowledgeable and trained staff who understand dog behaviour and can handle any situation that may arise.
Cleanliness this might sound like a strange one considering dogs will be running around and slobbering (probably pooing) all over the place, but it is super important to have a look at the facility yourself before taking your dog to assess the cleanliness and the overall environment. Look for clean and well-maintained play areas, as well as proper sanitation practices to ensure the health and well-being of all the dogs in their care.
TIP It's also a good idea to look for certifications or training programs that the staff members have completed, such as pet first aid and CPR.
What you need to ask
Make sure you ask lots of questions to help decide if a centre is suitable for your dog.
Prepare a list of things to ask on your visit, such as:
1. What is the staff-to-dog ratio? A low staff-to-dog ratio ensures that each dog receives individual attention and supervision.
2. What is the protocol for handling emergencies? Find out if the daycare has a plan in place for handling medical emergencies and unforeseen situations.
3. How do you group the dogs together? It's important to know if they group dogs by size, age, or temperament to ensure a safe and harmonious environment.
4. What is the process for introducing new dogs to the group? A proper introduction process is crucial to prevent any potential conflicts or stress among the dogs.
5. What is the policy for vaccinations? Ensure that all dogs attending the daycare are up-to-date on their vaccinations.
6. Are there any additional services, such as grooming or training? Some doggy daycare centres may offer additional services that can be convenient for pet parents.
Remember, don't be afraid to ask as many questions as you need to feel comfortable and confident.
TIP – Look for safety measures and certifications

When it comes to the safety of your beloved pet, it's important to choose a doggy daycare that prioritises safety above all else.

Look for certain safety measures and certifications that indicate a commitment to providing a secure environment for your pup.

Are there secure entrances and exits? Is there a fenced outdoor play area? Are there separate areas for small and large dogs?

These measures help prevent escapes and ensure that dogs are properly supervised during playtime.

Some daycares may also require dogs to undergo a temperament assessment to ensure they are well-suited for group play.
Tips for preparing your dog for their first day
The first day at doggy daycare can be an exciting but potentially overwhelming experience for your furry friend.
To ensure a smooth transition, here are some tips to prepare your dog for their first day:
1. Start with short visits: Before their first full day, schedule a few short visits to the daycare facility. This allows your dog to become familiar with the environment, staff, and other dogs gradually.
2. Update vaccinations: Make sure your dog is up-to-date on all vaccinations. This helps protect your dog and others from contagious diseases.
3. Pack essentials: Prepare a bag with food, treats, medications, and any comfort items such as a familiar blanket or toy.
4. Provide clear instructions: Communicate any specific instructions or preferences to the daycare staff. This can include dietary requirements, allergies, or any behavioural concerns.
5. Remain calm and positive: Dogs can pick up on our emotions!
Save the tears for when you get back into the car, that will reassure your pup that everything is ok.
Hopefully this helps when you are hunting for the best doggy daycare for your beloved pet.
If we've missed something, or you have any other tips, comment below and we can add it to the guide!
Happy daycare hunting!
READ MORE FROM ANIMAL FRIENDLY LIFE