With five sanctuaries across Thailand, Elephant Jungle Sanctuary is an eco-tourism project dedicated to offering tourists an animal friendly travel experience.
The sanctuary is popular with tourists looking to interact with elephants responsibly in their natural environment.
Read more about ethical, animal friendly travel here
The sanctuary
The Elephant Jungle Sanctuary aims to lead by example and contribute to a positive change in the way elephants are perceived.
Visitors are able to see the animals treated with care, love, and respect, instead of being poached, overworked, ridden or abused.
Tanny Hattakarn, manager of Elephant Jungle Sanctuary, says it can be extremely emotionally draining working with abused or neglected elephants.
Though this sadness pushes her to make a better life for animals and inspire others to do the same.
"It can be very difficult at times, particularly with elephants in poor physical or phycological health," says Tanny.
"It's important to not live in the past though, the elephant doesn't not need me to feel sorry for them as that doesn't help anyone.
"The elephants need us to move forward, so I use my emotions as inspiration to help provide a better future for the elephants.
"I use my voice to speak for the thousands of others."
Most of the elephants at the sanctuary have come from a past of being ridden for entertainment.
 The Mahouts
The first step in all any rehabilitation process is to match them with a mahout (elephant keeper).
"It is important for the new arrival to make friends, both human, and elephant," says Tanny.
"The first step is to match them with an experienced mahout, one who is best suited to their needs.
"The mahout's goal is to establish a bond and can take time (but having a lot of good food obviously helps).
"Once a bond is formed, the mahout will be able to learn about issues that may not be obvious to others.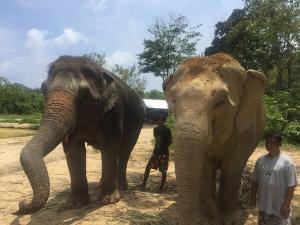 As they are naturally herd animals, Tanny says matching them with elephant friends is important for their rehabilitation.
Though this process needs to be done extremely carefully as it's not always guaranteed they will get along.
Tanny's five little known facts about the majestic elephant

Elephants are one of the few animals that can recognise themselves in a mirror.

The trunk of an elephant has no bones.

There are actually three species of living elephant (many people think there are just two); the African Forest Elephant (Loxodonta cyclotis), African Savanna Elephant (Loxodonta Africana) and Asian Elephant (Elephas maximus).

The Asian Elephant is more closely related to the extinct Woolly Mammoth than to either of the African species.

The tusks are just modified secondary incisor teeth.
Wildlife tourism and animal friendly travel
Elephant Jungle Sanctuary is passionate about providing an experience for tourists that is doesn't negatively impact on the animals or the environment.
Proper research is essential for anyone wanting to interact with animals on their holiday, explains Tanny.
"For anyone heading to Thailand, I'd say just make sure you keep the animals' well-being as your top priority," says Tanny.
"I'd recommend tourists learn about the best ways to look after elephants and keep them safe in their natural environment.
"Look for places that truly care about the animals' well-being and focus on giving them a natural, loving home.
"Remember, your choices as a traveler have a big impact.
"By supporting establishments that prioritize the ethical treatment of elephants, you're contributing to a brighter future for these incredible animals and promoting sustainable tourism practices."
Tanny adds that it's wonderful seeing people being concerned about the impact their travel will make on the animals.
"There's definitely been a change in the way people want to interact with animals on their holidays," says Tanny.
"And we're seeing more sanctuaries popping up and fewer circuses, which is a really good sign."
Despite this, there are still many tourists choosing to go for elephant riding activities in Thailand.
"It's not like everything is perfect, but the growing number of sanctuaries is a step in the right direction.
Special memories
Tanny tells the story of an elephant who came to the sanctuary after still being in her early 70s.
"Until meeting her, I thought ALL riding camps were bad and mistreated their elephants," says Tanny.
"This changed after hearing the story of how her owner was crying when handing her to us.
"He was devastated to be saying goodbye to his old friend, but he knew she would have a better life with us.
"It moved me deeply to know that her owner had genuine love and a true connection with her."
Things to know about Elephant Jungle Sanctuary

Locations Phuket has two EJS sanctuaries and there are also sanctuaries in Chiang Mai, Pattaya, and Koh Samui.

Tour options All tours and activities ensure the elephants maintain their natural routines and behaviour.

There are maximum group sizes for each of the programs to ensure the elephants aren't overwhelmed.

Each program is structured around the number of elephants at that particular location.

Experience Visitors can take part in half or full day feeding and walking tours through the forest.

They also have the option to shower and bath with the elephants.

Convenience Visitors can be collected at their accommodation and driven to the sanctuary.

The elephants There are currently 17 elephants across both sanctuaries in Phuket.
READ MORE