Elephant rides and sanctuaries in countries like Thailand have sparked criticism in recent years due to the abuse suffered by the animals.
With travelers being urged to plan only ethical, animal-friendly holidays due to widespread cruelty concerns at many popular tourist attractions, we are sharing firsthand stories by people who have experienced a truly ethical holiday.
Rhonda Khouri, a Queensland-based therapist, shares her experience of traveling to Thailand to spend time with rescued elephants in a sanctuary.
Read our article on planning an animal friendly travel adventure here
Rhonda's ethical Thailand elephant adventure
Ever since I was a child, I had longed to get up close and personal with the magnificent giant of both South-East Asia and Africa, the elephant.
I can vividly recall watching Harrison Ford in Indiana Jones and The Temple of Doom ride through muddy waters on these gloriously adorned animals.
I was instantly in love but unlike most love affairs, this one would last a lifetime.
What I didn't know back then was that due to poaching and habitat loss both these species of elephant were fast on their way to becoming endangered.
Even more confronting to me, was learning that those that are still in existence are being abused and mistreated for monetary gain by their owners daily.
Elephants are highly intelligent and emotional creatures, which makes them captivating.
Add to this their brute strength and you can see why they have been used to serve humans for centuries.
In recent times a bit more attention has been given to their plight after celebrities have visited Elephant Sanctuaries in Thailand.
This led to a short burst of articles promoting the importance of the ethics of sanctuaries tourists intended to visit.
Phuket Elephant Jungle Sanctuary
The choice of where to go can be confusing because, as we know, advertising can be misleading.
Sticking the word sanctuary in a name does not make it one.
So, in 2017, before my first trip to Thailand, I did some research and found one of the truly ethical sanctuaries in Phuket.
The Phuket Elephant Jungle Sanctuary houses a relatively small number of elephants.
All the elephants at the sanctuary have been rescued from a life of hardship by either the logging or tourism and entertainment industry.
Despite the common belief, the Asian Elephant's spine is not designed to carry weight, human or otherwise, and doing so causes permanent damage.
So, despite my dream of finally re-enacting a fantasy movie scene in my head, I was relieved to know that The Phuket Elephant Sanctuary does not offer or allow the riding of elephants.
It was wonderful to see that not only the Mahouts (elephant handlers) loved these animals deeply, but that every member of staff did too.
What's more, the traditional use of the Mahout's bull hook is not needed as the elephants are not forced or trained to do anything unnatural.
Our visit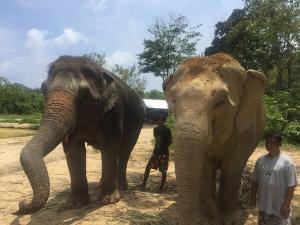 The sanctuary picked us up from our hotel and, on arrival, we were given cold water and told some necessary but highly interesting elephant facts.
We then spent half a day feeding, cuddling, washing and interacting with these majestic creatures.
We were provided with a lovely lunch, which gave the elephants some alone time too.
The elephants were never forced to interact but there are enough on hand to ensure you will always get some one-on-one time.
We were lucky enough to meet a baby elephant who had been bought by the sanctuary specifically so he could be kept with his mother.
He had been kept by the original owners to work in the tourism industry, but the sanctuary eventually convinced the owners, for a price, to give him up.
This cheeky youngster was not one to do as he was told, and he loved to cause trouble.
He provided much entertainment for us all, but like all cheeky children, Justin became weary and was in need of comfort.
Watching the interaction between his handler, his mother and little Justin was a heart-warming moment we will never forget.
Each elephant has their own Mahout for life, so their bond is very strong.
The guides also speak several languages which makes the day comfortable and easy for tourists.
The highlights
A special highlight for the brave was helping the elephants cool down by climbing into murky water and covering them and yourself in mud!
You might want to cover your nose too while you're at it! I was not going to miss a second of up close and personal time, so it was totally worth it. Showers were provided for both the elephants; yes seriously they loved it, and so did we!
To our surprise when it was time to say goodbye the sanctuary gifted each of us with a souvenir bag and shirt as a token of their appreciation.
Without a doubt, the day exceeded our expectations, and the wonderful memories will live in our hearts forever.
I would definitely recommend anyone wanting to interact with wildlife humanely, to visit them.
How to see elephants in Thailand
Elephant Jungle Sanctuary has locations in Chiang Mai, Pattaya, Phuket, and Samui who all promote ethical treatment of elephants around the world.
The Phuket sanctuary offers half day visits, full day walks and overnight stays with breathtaking jungle and beach views.
The money raised from visits and donations contributes to elephant rescue, feeding, veterinary care and land and infrastructure.
So, by visiting Elephant Jungle Sanctuary you not only will have an up close and personal experience of a lifetime, you will also be helping rescue one the earth's most magnificent animals.
For more information about the sanctuary and how to visit, go to www.elephantjunglesanctuary.com
More stories like this: