A unique program using therapy dogs is helping vulnerable kids reconnect with their education.
Paw Pals is an initiative of Mackillop Family Services that provides therapy dogs to in need Victorian children who are disengaged from learning.
With the support of therapy dogs, MacKillop Family Services has supported over 650 kids to get back to education in the five years it has been running.
Starting out in 2018 with one golden Labrador and one facilitator, MacKillop has grown the program to eight facilitators and nine dogs who work across Victoria.
Paws4Kids
This week, the organisation hosts its Paws4Kids Matched Giving Day fundraising initiative, to support its Paw Pals program.
Paw Pals is a 100% community-funded program, and with the support of charity partners – like The Petspiration Foundation.
This year, Paws4Kids aims to raise $350,000; all donations made on or before Thursday 27 April will be doubled by matching partners, including The Petspiration Foundation (formerly PETstock Assist), until the target is achieved.
Getting kids back into the classroom
In the three years to 2021 there was a 50 per cent increase in the rate of students not attending school in Victoria.
MacKillop Education Director, Anne Henderson, say Paw Pals has produced amazing results for young people who have been disengaged from learning.
"Finding strategies that encourage kids back to learning is not straightforward," says Anne.
"These young people are dealing with issues that can range from problems in their family, living with anxiety, being in out of home care or struggling to go into class after spending a considerable time learning remotely.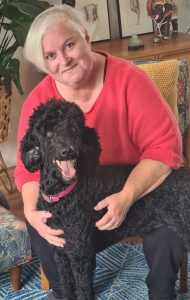 "When other tried and tested interventions fail, a therapy dog can be the key to making that special connection with a child.
"Once a child has bonded with a paw pal, they are more open to working with an education facilitator who can help with strategies to boost their confidence and improve their interaction with classmates and teachers," Ms. Henderson added.
Sherralea Cassidy, The Petspiration Foundation's Charity and Events Lead, says they are proud to partner with such a fantastic initiative.
"Mackillop's Paw Pals program is such an important initiative, and by doubling every dollar donated to Paws4Kids to help reach their fundraising goal of $350,000.
"We hope we can make a meaningful difference to the lives of people who need our support to get back into the classroom and continue learning," Sherralea says.
Shiloh's story
11-year-old Shiloh's life was turned upside down last year when her mum was no longer able to care for her and she came to live with her dad, whom she hadn't seen for close to three years.
For a child who craves order and routine, this upheaval increased Shiloh's anxiety, making it increasingly difficult for her to concentrate at school and engage with her classmates.
When she began working with Indie, a four-year-old black Labrador, and facilitator Sarah, Shiloh was withdrawn and wary of new relationships.
She found it difficult to trust or maintain friendships.
Shiloh's dad, Daegal, says Shiloh started to come out of her shell soon after starting MacKillop's Paw Pals program.
"It's amazing how quickly Shiloh responded to the therapy dogs. She learned to understand the dogs' body language and that they have emotions similar to people.
"It has really helped her to realise that her feelings are natural and to recognise her triggers.
"Paw Pals is so much more than taking a dog for a walk, although Shiloh loves to do that too," laughs Daegal.
"Shiloh knows that the dogs have grown to trust her and that she has earned that trust, through being kind to them and caring for them.
"It's fantastic to see how her confidence has developed and how responsible she is in looking after the dogs, making sure they have water, and they are not getting stressed by a situation – it's a relationship of mutual respect," Daegal added.
Shiloh is preparing to move to high school next year and MacKillop's Paw Pals team are helping her to prepare for the transition and cope with another episode of change in her life.
"Shiloh tells me that Indie is happiest when she is working to a routine and that she likes to know what is going to happen as well, so we stick to our routine as much as possible," said Daegal.
"We missed out on so much of our relationship when Shiloh was younger, and It's lovely to see how she has come to trust me and know we have bonded.
"She is a much happier little girl who is making great friendships and through Paw Pals, she is learning skills that will help her throughout her life and future relationships."
Find out more on how to donate and how this years' fundraising day went, here: Paws4Kids
MacKillop Family Services operates in VIC, NSW, WA, ACT and the NT and has been committed to working with families and communities so children can thrive since 1997.
Find out more about MacKillop Family Services at www.mackillop.org.au
Read similar articles below: